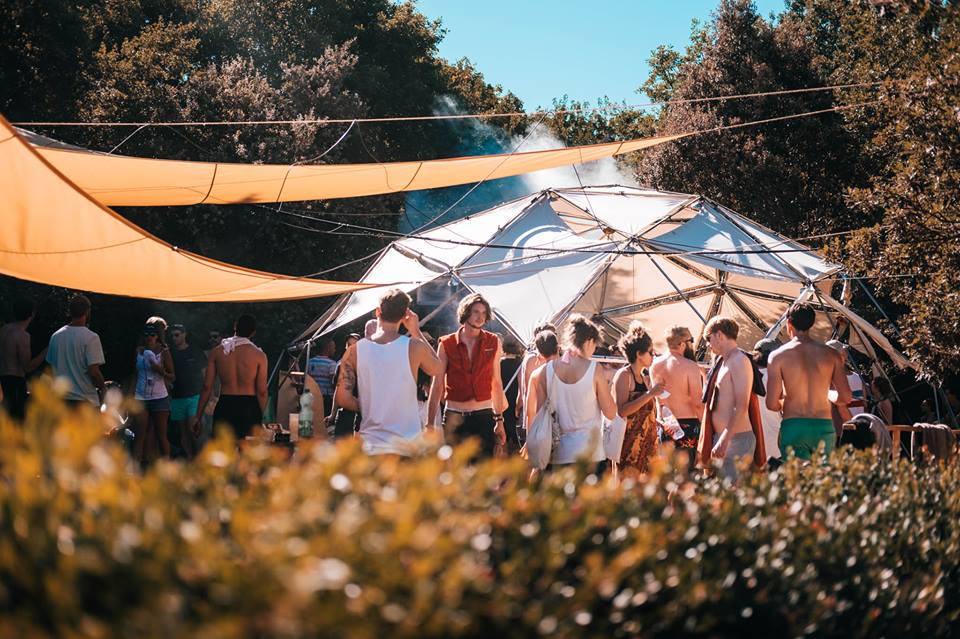 Monticule Festival Announces Their Full 2019 Lineup
To celebrate their 5th year as a growing techno showcase of artists and producers, Monticule Festival have announced the full lineup of acts to the sum of over 50 artists from 19 – 23 June. From artist debuts with the likes of Stenny, Blawan and Courtesy, as well as techno heroes hailing from Munich, Zenker Brothers. Representing Ombre International, Curses, and a legend in the genre, Sasha Funke. Festival goers can also look forward to French up and comers Simo Cell, Pilotwings and Oko DJ.

The festival takes pride in setting a holiday atmosphere with a more intimate setting in the quaint, historical town of Domaine De Gayfié for this 5 day experience unlike any other in Europe. The acts can be enjoyed from a rave barn and an ambient dome in addition to the open-air main stage. To add to the vacation air, there is an array of extra-curricular activities to choose from including donkey rides, cave tours, a mini-ramp for skaters, astronomy lessons and painting lessons with Alexander Scharf representing Munich's Academy of Fine Art. Or if you're more inclined to massages and yoga, the festival has that covered as well. 

5 Day Festival as well as 3 day weekend and group tickets are available to book now here.
Amandra live (Arphe Records / Paris)
Antwn (Positive Education / St. Etienne)
Arabian Panther (La Chinerie / Toulouse)
Asaf Samuel(Malka Tuti / Tel Aviv)
A Strange Wedding (Positive Education / St. Etienne)
Blawan (Ternesc / London)
Camila Fuchs live (ATP Recordings / Lisbon)
Cønfetti (La Berlinoise / Toulouse)
Courtesy (Kulør / Copenhagen)
Curses live (dischi autunno / Berlin)
Dima Oboukhov (Acephale / Cologne)
 Dissidance (Dissidance / Cologne)
Fantastic Twins live (Optimo Music / Berlin)
Fez (Monticule Racing Team / Munich)
Flo Scheuer (Monticule Racing Team / Munich)
Gilb'R (Versatile Records / Cologne)
Fog Puma (Mystic Moods / Berlin)
Hulk Hodn (ENTBS / Cologne)
I:Cube live (Versatile Records / Paris)
Jan Schulte (Salon des Amateurs / Düsseldorf)
Jennifer Cardini (Correspondant / Berlin)
Joscha Creutzfeld (Dublab / Cologne)
 Judaah (BFDM / Marseille)
Jules Gaardls (La Berlinoise / Paris)
Katzele (Malka Tuti / Berlin)
M. Rux live + DJ (Tal der Verwirrung / Berlin)
Manfredas (Les Disques de La Mort / Vilnius)
Martha van Straaten (Laut & Luise / Berlin)
Max Vincent Raw (Monticule Racing Team / Munich)
Michal Zietara (Wilde Renate / Berlin)
Wolf Müller & Niklas Wandt live (Growing Bin / Düsseldorf)
P-T2 (Monticule Racing Team / Munich)
Parfait & Raär (Possession / Paris)
Permanent Vacation DJ (Permanent Vacation / Munich)
Phillip Jondo (Salon des Amateurs / Cologne)
Rabih Beaini aka Morphosis (Morphine Records / Berlin)
RSS Disco (Mireia Records / Hamburg)
San Quentin (Pappendisko / Munich)
Sascha Funke (Multi Culti / Berlin)
Shimé (Naiv Studios / Munich)
Steno (Ilian Tape / Munich)
Tako (Red Light Radio / Amsterdam)
The Pilotwings live (BFDM / Lyon)
Thur Deephrey (Pappendisko / Munich)
Veli x Viwo (MRT / Munich)
Vinson (Naiv Studios / Munich)
Walter Wolff (Pappendisko / Munich)
Yannic Bartel (Monticule Racing Team / Munich)
Zenker Brothers (Ilian Tape / Munich)