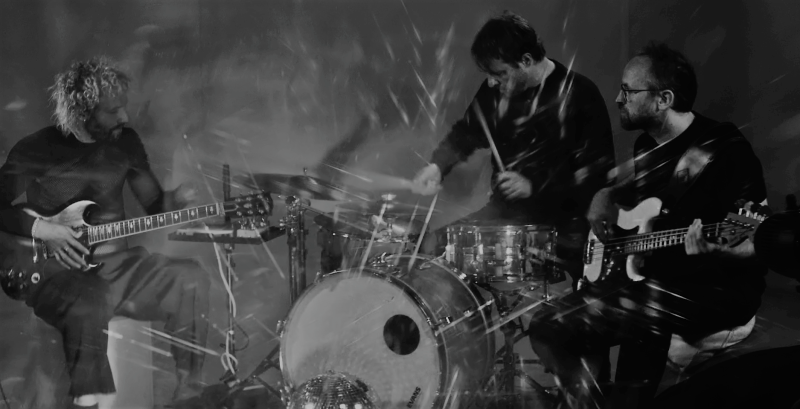 Live techno reappears with Elektro Guzzi in energetic music video
Now, if you'd spoken to us a few years ago about live techno, we probably would have laughed you out of the room. However, turns out, it's actually a real thing and the sound is well, pretty infectious to be honest. The latest single on our radar is 'Okra' from Elektro Guzzi and while you might be tempted to say, "that's just straightforward techno", their live video is more than enough to prove you wrong. The single is lifted from their upcoming album, Triangle slated for release exactly one week from now via Palazzo.
The Elektro Guzzi tell us about the creation of the single: "Okra was created at the end of a studio session, when everything was actually finished, but we still wanted to play a version. suddenly this moment happened in which we were completely lost in the track and the energy raised to another level".
Fronted by Bernhard Hammer on guitar, Jakob Schneidewind on bass and Bernhard Breuer on drums, the band manage to create genuine live techno music using rock instruments. If this sounds like something just up your street, we'd also suggest checking out Komfortrauschen who appeared on our radar a few years ago. Now we're not going to point out the eerie similarities between the two bands but we will say that if there's ever a collaboration, we'll be there front and centre for the live show to watch it all unfold.  
While we're fantasizing about future collaborations, we'd suggest you check out the current greatness in the link below:
Follow Elektro Guzzi:
Website – Facebook – Twitter – Soundcloud – Youtube – Instagram – Spotify