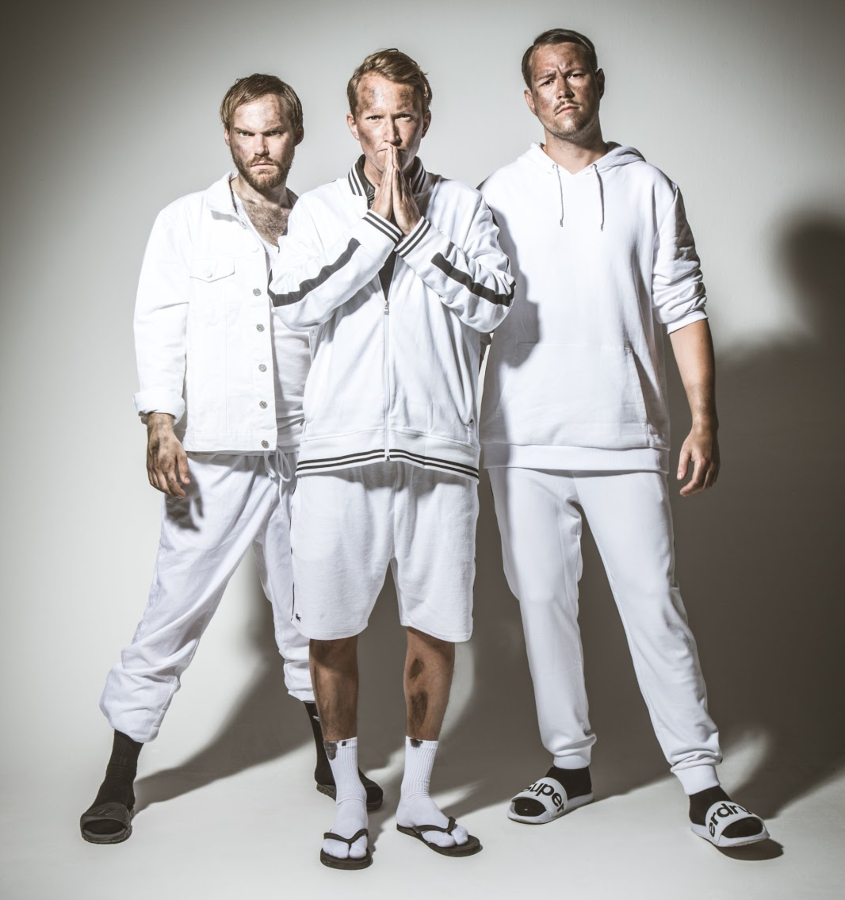 Meet KOMFORTRAUSCHEN, the live techno act with industrial accuracy
Taking a step away from what's normally expected from techno, KOMFORTRAUSCHEN are a live act embracing traditional instruments. Filtering them through an array of effects, the resulting sound embodies the industrial accuracy of techno meeting the energy of a live band.
Providing this accuracy and energy are three German musicians, Tim Sarhan, Laurenz Karsten and Phillip Oertel who have just released their latest set of singles, 'Mechatronik I' and 'Mechatronik II'. The songs were shared on 29 November via SPRINGSTOFF and premiered with Earmilk and Electronic Groove respectively.
As soon as our headphones lit up with their sound, we knew we had to learn more about the "three precision-obsessed control freaks" who made it. 
Who were your first musical influences that you can remember? Who inspired you to start producing music?
As Komfortrauschen, our first influences were electronic musicians such as Efdemin, Jan Jelinek, Trentemøller and Ricardo Villalobos. We loved the beauty and the minimalism of Efdemin's self-titled debut for example and it was a huge influence back then. But people like Marcel Dettman and Ben Klock were very important for us as well, for example, Ben Klock's 'Subzero' left us speechless!
What would you like to achieve with your music? What does success look like to you?
We want to be heard, so playing all around the world (as we do now ;)) is a good definition of success for us. Also, we love when DJs tell us they like to play our tracks. As a band, your tracks are not played very often by DJs in regular techno clubs.
What does your current software/hardware setup currently consist of?
The Elektron Octatrack is the heart of our setup. It's the master clock, the sequencer, and it works as an effects processor and controller for the Clavia Nord Drum 3 which might afterwards get embellished or destroyed by the Elektron Analog Heat. The origin of almost all of the sounds is a real audio signal coming from the drum set, the guitar or the bass guitar. The latter two are then sent through a large number of stompboxes. For example, we use the Pigtronix Philosopher King to put an ADSR envelope on the patterns we play, plus several synth and filter pedals like the Source Audio C4, Meris ENZO or the Iron Ether Subterranea and Xerograph Deluxe. Put some delays on top (we use Boss DD-500 and TC Electronic Flashback), some sub bass on the bottom and add the magic of our sound engineer.
Outside of music, what inspires you?
We love cooking, long walks and nature. Silence is quite important if your job is to make noise all the time 🙂 Movies, of course, are also a huge influence. If you haven't seen 'Parasite' yet, go for it!
What are some of the difficulties you've faced while working together?
As a band, you really have to learn to communicate. Everyone has their own influences and is special in her/his own way. The challenge is to create something that is unique in its own way but still represents every single member.
You've been quoted as saying 'Mechatronik' is the combination "of techno with the attitude of a garage rock band". Are there any other genres that you're planning to explore in the future?
At the moment we really dig Techno and Acid, and our next tracks will definitively be a little more aggressive. However, I guess the "garage rock attitude" will stay for a while 😉
What kind of relationship do you have with the internet? How does this inform your artistic expression?
We use the internet as a source of information. You can inform yourself about almost everything on the internet and you can quickly get a good overview of a certain style in music or a certain musician – if you know where to look. But the internet will never replace lessons or teachers. What we have learned from our friends or colleagues will be difficult to find on the internet.
It is also a great medium for us to advertise our band. Thanks to Instagram we can keep our fans up to date and we can keep in touch with them all the time.
We closed a big stage at Fusion Festival this summer 2019. That was huge and very impressive. It is a very special festival for us and it was definitely one of the most impressive shows we played for us!
Any new or upcoming artists on your radar?
KIDSØ, La Fraicheur and Schacke!
Please suggest an album for us to listen to.
At the moment there are two records that keep spinning on our decks: "Who Else" by Modeselektor and "Singularity" by Jon Hopkins. Both are great records!
What can we expect from you in the near future? Any upcoming projects or gigs in the pipeline that you would like to tell us about?
We will be on tour next year! More information about when and where will be out soon. There will also be at least one release, right now we are finishing the recordings.
Famous last words?

We love techno but we also love the drive and the energy of rock bands such as Nirvana. We love to play with guitar pedals and we enjoy distorting every signal we get. Add some sequencing and lots of cables and you get Komfortrauschen!
Follow KOMFORTRAUSCHEN:
Website – Facebook –  Twitter  – Soundcloud – Youtube – Instagram – Spotify