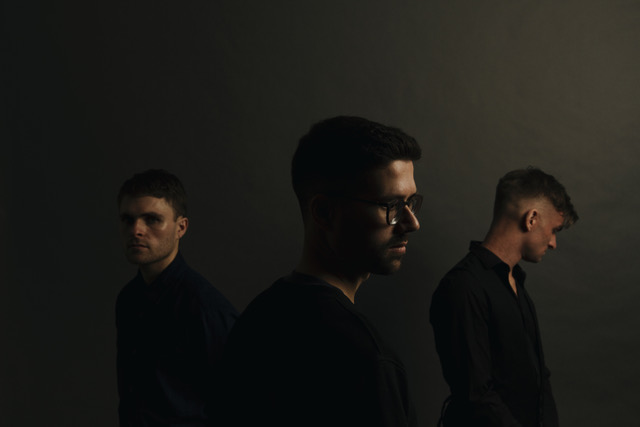 Q&A with The Leeds-based trio Fossa
Three-piece band Fossa has released a distinctly progressive stream of electronic music, beginning with their 2018 debut EP "Bamboo". This gained a lot of attention, particularly with the BBC, having tracks featured on radio and a TV, and also kick-started the development of Fossa's live show.

Taking the newly born live trio to the stage, Nick demonstrated, alongside drummer Tom Higham and guitarist Calvin Travers, that electronic music has a place within a live band scenario. They've since supported the likes of Cub Sport and The Field, sold-out headline shows, and played to huge crowds at festivals around the UK. Amongst their success performing live, 2019 saw the release of two more singles, '53rd Street', and 'Tamar', both progressing towards a more uniformed and mature sound.
Who were your first musical influences that you can remember? Who inspired you to start producing music?
I was brought up listening to and playing jazz, and have somehow jumped from there to producing electronic music. Back then, I was listening to the likes of John Coltrane, Michael Brecker, and Miles Davis non stop, and then slowly evolved into more contemporary jazz, experimental electronic music, and then to the likes of Bonobo, Floating Points and Four Tet!
What would you like to achieve with your music? What does success look like to you?
Having our music appreciated and enjoyed is the main goal. We'd love to perform our music live across the globe, support some of our favourite artists, and sell some records! We'd be very happy if we could achieve all of that!
What does your current software/hardware setup currently consist of?
Not a lot in all honesty. I write and produce all the tracks with Ableton Live, and use a bunch of awesome plugins to create the sounds needed! We've also got some hardware Moog and Dave Smith synths that we use both in the studio and live.
Outside of music, what inspires you?
Travel has always been a big help when it comes to writing. I get a lot of influence from seeing other parts of the world and meeting interesting people. I'm also really into cooking and use it as a time for reflection, which can also help get the creative juices flowing.
What kind of relationship do you have with the internet? How does this inform your artistic expression?
The internet is obviously an incredible source when it comes to discovering new music, and I think I'd probably struggle to discover some of the artists who have been a huge influence in my writing without it. It's also an incredible place to learn new skills when it comes to making music in particular for me, and in that sense is quite priceless in that it has allowed me to convert the weird sounds in my head into a finished piece of music.
As a performer or as a member of the audience, what single show has been the most memorable for you?
I toured pretty extensively with a band (Jenova Collective) a few years back and played some insane shows around the world. 170 Russel in Melbourne tied with WOMAD festival have to be the stand out gigs for sure.
Any new or upcoming artists on your radar?
Jinjé – check this guy!!
Please suggest an album for us to listen to.
Epoch – Tycho
What can we expect from you in the near future? Any upcoming projects or gigs in the pipeline that you would like to tell us about?
We've got a couple more singles to release this year, and have recently begun writing our first full-length album!
Follow Fossa online