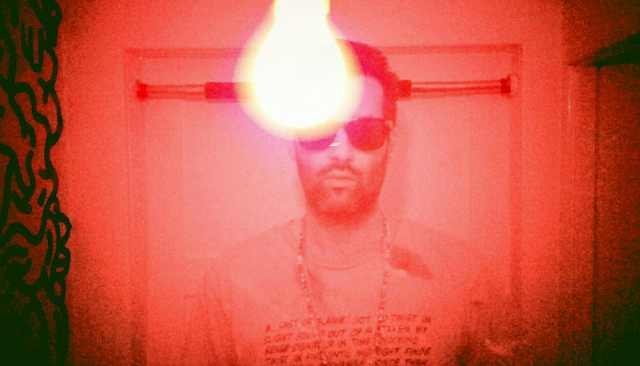 Kutmah To Release the album 'TROBBB!' via Big Dada
Kutmah's "The Revenge Of Black Belly Button!" (or TROBBB!) will be released via Big Dada on 11th August 2017. The record features a host of acclaimed guest artists: Gonjasufi, Jonwayne, Natureboy Flako, Ta'Raach, Jeremiah Jae, Zeroh, Zackey Force Funk, N8NOFACE, Sach, Akello G Light and DJ Chris P Cuts – spanning experimental meditative, Zennist loops; crackly oddball beats and abstract raps; as far as outright punk/noise and even folk/blues.


Kutmah is known as one of the most influential DJs of the beat movement, and his skills and vision as a producer are brought to the fore on "TROBBB!"
"I wanted to make a record for loners,"  
he laughs
. "You know some records have that 'Hey! I'm at a festival!' sound? Well I wanted to do the opposite of that."
It's fitting that the album arrives via Big Dada – a label that helped shape his vision.
"Big Dada started the same year I started DJing. Literally when I first touched turntables,"
he explains.
"I knew I had to find that other type of music to fit where my head was at. Leftfield beats and abstract rhymes were what I was looking for and alongside Jazz Fudge, Mo Wax, Asphodel and Fondle 'Em, Big Dada was what I was digging."
Listen below and buy here:
Tracklist:
01. T.R.O.B.B.B! Theme (Curtain Opens)
02. Strangetown
03. Lifted
04. Shut Shit Down!
05. Brown Porsche 928
06. Change Things
07. Teezuk Humra08. Arrival
09. Hackney
10. E2 7RW
11. Stalker
12. Black Myth (feat. Jeremiah Jae & Zeroh as Holy Smoke) **
13. BN1 8DH
14. SwampThing (feat. Zackey Force Funk)
15. On The Run
16. Follow The Light
17. ShadowDancer
18. Guidance Counselor
19. Cooler Of Evidence (feat. N8NOFACE)
20. Blackwave (feat. Zeroh) **
21. Scorch 4 The Phoenix (feat. Ta'Raach & DJ Chris P Cuts)
22. Thoughts Under The Full Moon (feat. Akello G Light)
23. Accounted For, Then To (feat. Jonwayne) **
24. L.A. Memories (feat. Sach)
25. Interlude **
26. Herbal Tea Sessions (feat. Akello G Light)
27. Healing
28. Dunes
29. Enta Omri
30. Love Found **
31. Bury Me By The River (feat. Gonjasufi)
Kutmah Socials: