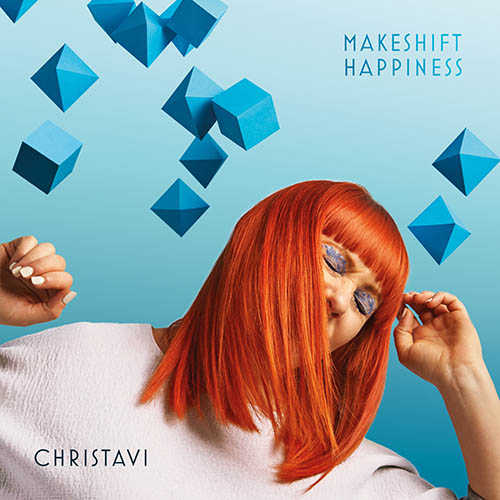 Interview: The Origami Pop of Christa Vi


Australian-German singer songwriter Christa Vi has been steadily building her synthpop sound for a number years and has just recently released her debut album Makeshift Happiness. The record is a result of studio sessions with co-producers Andrew McDonnell (Petite Noir, SUNS) and Dan Brown (Massive Attack, Karin Park). Currently living in East London, the red-haired "origami pop" artist takes a few minutes to reveal what's going on inside the paper folds.

Hi there, how are you and what are you up to today?

I'm trying to relax! I just released my debut album 'Makeshift Happiness'. It's been a lot of work and sleepless nights but it feels good to have it out finally. I'd like to stop for a moment and take it all in. I'm grateful for all the interest in it, as for me it's important that my music reaches people and opens up some kind of dialogue or exchange of energy. 

To those not familiar with you, how would you describe your sound?

Origami Pop

What are the 5 albums that have influenced you the most?

I listen to such diverse music that doesn't necessarily sound like mine, but here are some of my favourite female artists who've influenced me:
Bjork – Homogenic

Moloko – Statutes

Sia – Some People Have Real Problems

Little Dragon – Ritual Union

Feist – The Reminder
Which other artists are you into at the moment and why?

I'm really enjoying Jessy Lanza's new album 'Oh No' as the production is awesome, her melodies and use of effects are really unique and I like that she is making pop and RnB music with depth. She seems to be quite an introverted person so I relate to that as I'm a reluctant front person myself. 

I think Shura is amazing too, her songs are so polished and catchy and she's another 'anti-pop' artist in the sense that she's not what you would expect when you hear her music. Also I love that Christine and the Queens is doing so well, with a quite eccentric take on pop music that's somehow broken into the mainstream. We need more of that in the Top 40!

I'm enjoying a new artist from Seattle called Liyv, who makes 'sad music for people who like bright colours'. And I'm expecting big things in future from Australian artist Chela who's released some great singles with Kitsune and I Heart Comix. 
Are there any key pieces of equipment that you are using to define your sound? 

When I was working with the two main producers on my record, we tried to keep to a few synth sounds to maintain some consistency, like the Juno 106, Moog and Prophet 5. I used to write songs with a guitar a lot and although I'm trying get away from that, there are still some guitar parts in the mix. I used to write more folky music and play live with a guitar but now I'm exploring what kit to use that makes sense with my current sound. I'll probably use a Novation keyboard in future to control some of the sounds. I'm still working on how best to construct the live show. 

The UK music scene is certainly always changing. Some might say that at the moment it's more electronic oriented. Do you think this makes it more difficult for indie and alternative acts to get recognition than it would have done ten years ago?

What would you say some of the challenges artists face today in the music industry?

I think the internet and all the platforms you can access for free are really helpful for independent artists to get their music out there. However, the downside to that is there is so much music coming out every day of varying quality, it's so hard to be heard above all the noise. I also think the focus on social media and numbers of followers is very limiting and it can leave behind a lot of talented people who are not so into promoting themselves on things like snapchat and Instagram. I don't like taking many selfies, so unfortunately that can be an issue in this day and age of 'over-sharing'. It would be nice to just make music, but sadly the reality is, you have to do all these other internet things, even if you do have a big record label behind you.

Where do you gather song writing inspiration? 

I mostly get inspiration from people and strangers around me, as well as past experiences and emotions. I think I'm quite an empathic person and I take a mental note of how I sense that people are feeling, like when I overhear conversations on a busy street or in a cafe. In a big city like London you're faced with close up encounters of strangers every day and I find it interesting to observe people who might just be sitting on their daily commute on the London underground and I wonder what they are thinking, what's motivating them, what's makes them sad. I'm probably projecting a lot of my own feelings onto my songs, but that's how some of the themes are sparked in the first place. 

Take us through your songwriting process. Are there any particular steps you take when put music together?

I tend to start with some kind of musical structure, like I'll play some guitar chords or listen to a beat or arrangement that a someone has sent me to write to. For me the words and melody come at the same time and I find it hard to separate the two. Even if the words start out a bit nonsensical, there'll be a theme that appears and I'll build on that, slowly refining the lyrics and melody until I'm happy with it. 
I use to drive a lot for a job, in and out of London, so I've actually written a lot of my songs in the car! I find that it works best when I'm actually concentrating on something else like driving, as that's when the best melodies and lyrics seem to appear. I think it has something to do with tapping into your sub-conscious.

What's the best gig you have ever done and why?

The best gig I've done was when I released my first ever single independently called 'Your Heart' at the Lock Tavern in Camden, London. It's not that it was a very big or impressive show or anything, it's just that I'd finally pulled together a band of talented musicians and promoted my own show with some other great artists playing before me. All my good friends and supporters were in the room and there was just a really nice energy. I said before that I'm a reluctant entertainer, so it was nice to have a live show go really well and feeling so much positivity in the room. I'm hoping for more of that in future –  quality over quantity. 

And the worst?

I played at a terrible 'festival' once in Newquay, Cornwall. It was headlined by some great artists like Aluna George, but they put all the lesser known acts on a stage in a random pub in the town. They clearly didn't plan or promote it properly, so we were all playing to random locals and stag and hen parties who weren't actually part of the festival at all. The main stage was on the beach and it was so windy and rainy I think the whole day had a poor turnout. I won't name the promoter, but I know I wasn't the only artist who had a bad experience that day! 
If you weren't a musician what would you be? 
I think I'd like to be a photographer. I've done some courses in 35mm B&W development so it's becoming a bit of a side hobby for me. I'd also love to be an origami artist like the guy who made all the origami for my photos (Papershake Origami) –  what a fun job!
Do you have any particular gigs or festivals that you dream about playing?
Iceland Airwaves looks awesome. I'm a big Bjork fan but sadly haven't managed to visit Iceland yet- maybe that would be a way to do it.
If you could perform alongside any other band or artist, who would it be? 
I'd love to support Little Dragon, they look like they have fun on tour.
Do you have any information regarding upcoming releases, projects or gigs in the pipeline that you would like to tell us about? 
I've just released my debut album, so that's my biggest news right now. It's called 'Makeshift Happiness' and it's on iTunes, Spotify, Beatport and all the usual places. I'm getting physical CDs made too, which should be ready by January. 
Buy Makeshift Happiness on iTunes

Follow Christi Vi – Homepage | Facebook | Twitter