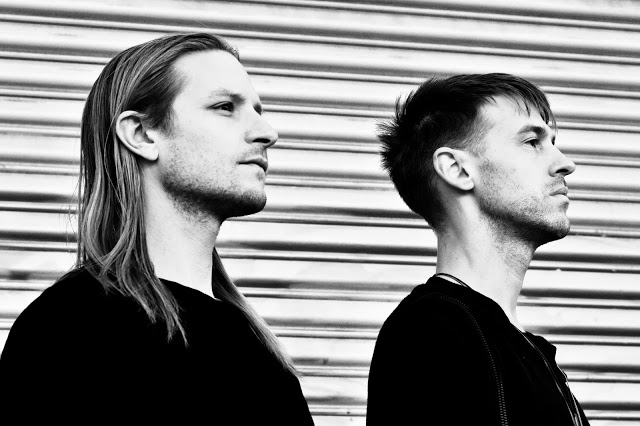 INTERVIEW: We Catch Up With Dance Spirit

Christopher Mohn and Reagan Denius are Dance Spirit, a duo that has been turning out compelling electronic music on labels like Supernature, Rebellion and Akbal Music since 2014. Their latest offering –  a Kindisch Stories compilation, will be released on April 21st, and shows off their selecting and sequencing skills with 13 tracks that include eight of their own exclusive remixes from the German label's back catalogue. They chatted to us about their influences, inspirations, and the time Chris had his drink spiked in the mountains outside San Diego…
Hi there, how are you and what are you up to today?
Chris: Hey there! We are both doing fine and well. It has been a pretty busy day for us actually, a good Monday. Wrapping up mixdowns, practicing for some upcoming performances, and hitting the post office to mail out some custom t-shirt designs we have been making lately!
Reagan: Finally settled after running around a rainy LA day where no one knows how to drive, baking some of the best damned chocolate chip cookies in the world from our friend Camille, enjoying the foggy view in LA from the studio, watching Dennis the Menace cartoons, and making some new material for our performance at Get Lost in Miami!
To those not familiar with you, how would you describe your sound?
Chris: Well it was put best by the Lightning In A Bottle marketing team when they were promoting our performance a couple of years ago who described it as "a more refined sound that creates and conveys beautiful emotions utilizing music as their universal language. Their love of heavy layering and deep rolling low ends produces an addictive futuristic minimal techno vibe in their productions and live sets." We stole it from them and put it in our bio because we felt the described what we do perfectly.
What are the 5 albums that have influenced you the most?
Chris:
1. The Beatles – Sgt. Pepper's Lonely Hearts Club Band
2. Pink Floyd – Dark Side of The Moon
3. Ricardo Villalobos – His Entire Discography 😀
4. Miles Davis – Bitch's Brew
5. The Grateful Dead – American Beauty
Of course five is a very small number but there you go.
Reagan:
1. Ricardo Villalobos – Dependent And Happy
2. Pink Floyd – Dark Side Of The Moon
3. Atoms For Peace – Amok
4. Massive Attack – 100th Window
5. Radiohead – OK Computer

Are there any key pieces of equipment that you are using to define your sound?
All the pieces in our studio come into play at some point or another. Definitely the Elektron machinedrum, and now the Analog RYTM as well. A Korg Minilogue sits in arms reach, along with our Virus TI Keyboard. We've also got a space echo we run things through now and then. And of course our TB-303 with "The Beast" mod, which allows us to take any audio signal and run it through the 303's step sequencer and filter, to acidify any sound we please. Running pads or vocals through it really yields some awesome results! Up next on our list this year is to nab one of those Dave Smith Instruments issues of the OB-6!
We also use a variety of fun plugins to accomplish much of our sound design. One in particular we're using right now is a newer instrument called "Dust" by a company called SoundMorph. It's a binaural granular synthesizer. It's really awesome. And fun!
What would you say some of the challenges artists face today in the music industry?
Chris: Well, I think one of the biggest challenges now days is how easy technology has made it for someone with generic tastes or blind ambition to become a DJ or producer. It has created stagnation and over saturation in the culture and market place, and it seems like almost everyone nowadays is a DJ. When I was a kid the word "rave" held a strong sense of mystery and wonder, and you knew someone who knew someone, who knew someone that was a DJ.
Reagan: Yeah, to reiterate a little, it's insane how technology has made creating music much more accessible. I think it's beautiful, because music is such wonderful powerful tool of personal expression. But alot of people use it to make quick money with generic sounding filler instead of really exploring themselves as artists and taking that raw energy and putting it into art. But I see that in any profession. Graphic design, food, computers, phones, whatever, you name it. Sticking true to yourself and your art is always going to be a challenge, but the more you do it, the more you figure out how to do it successfully! That's part of the fun in it.
Where do you gather songwriting inspiration?
Chris: Inspiration could come from anywhere, really. Sometimes it's listening to other music, sometimes it's being out in nature, reading a book, playing a video game or watching a movie. Hanging with friends or coming home after a night of partying.
Reagan: Sometimes I hear full songs in my head after being around a loud sound system all night. Just the other morning I woke up early from a restless sleep and threw on a guided Yin Yoga meditation. It's a form of "sleep" yoga, which helps you put your body asleep but keep your mind awake, helping lead you to a grand connection to the divine source of THE ALL. When I was done I went to play the piano for a bit, and came up with some really nice chords. I got hungry and went to grab breakfast, and suddenly while I was sitting there I had an entire song unfold in my head based on what I had been playing on the piano. I ate as quickly as I could and ran home to start bringing it into reality.
Chris: Sometimes our songs are "improvisational on the spot ,in the moment channel, the universe" and sometimes we'll start an idea and craft it out over time, holding in our heads a meditation of the final piece. Inspiration is a funny thing, but it's easier not to look for it. Most of the time, it is about connecting with your deeper self, and being in that moment with the source and letting it flow through you, no thinking. Thinking is your worst enemy in the creative process.
What's the best gig you have ever done and why?
Chris: Well, the one that pops into my head first is when we played City Fox in New York a couple of years ago. Whenever we play New York it is always motivating for me as an artist because I feel like if that city is calling you, then you must be doing something right. If anyone reading this has never attended a City Fox event, it is a proper adult rave. Five thousand people inside a warehouse the size of a city block, great sounds, a couple of different areas, and just about every type of freak, clubber, raver, dancer, partier imaginable. The Sacbe parties that Audiofly do every January are also special memories as they are so unique and exclusive, the production is always very smart, and raving with all of your best friends in the Mayan jungle is an experience like none other.
Reagan: I'd have to agree with all of that. Piknic Elektronik in Barcelona with the Flying Circus crew was also really amazing, as was LA's recent session of Get Lost at the legendary Park Plaza venue! And of course the Desert Hearts shows always hold a special warm fuzzy place in our hearts! Also Ebb + Flow last April at The House Of Yes in NYC was lots of fun with a really wild and raunchy burlesque type show that took place before the event.
And the worst?
Chris: I think we could both agree one of the most memorable shows was gig we had a couple of years ago. The drivers took us on a three hour ride that was supposed to only have been an hour. The party was high the mountains and it was pouring with rain. It was so cold that the rain was turning into ice. We then had to walk through the wind and rain for about a mile to get to the location as it was very remote so by the time we got into the party we were soaking wet and frustrated. The sound was distorting all night and the mixer didn't work.
At the end of the night one of the speakers actually just pushing out a horrifyingly loud tone.  After a long struggle to try to get paid (which was no easy task) the driver took us to our "hotel" and as we drove down the road I noticed first a washing machine in the mountains. Then I started to see some tires, then more tires, some barrels, then trash, lots of trash, trash everywhere, and it turns out that we had DJ'd in a landfill!  I then started noticing my perception of reality changing very fast and everything became slow and difficult.
It eventually turned out someone had put something in my drink that was making me trip out. It took about 3 hours to get back to San Diego to catch the train back up to LA, and we had to wait another hour for the train to arrive. Once we departed, what is usually an hour and a half train ride turned into a four hour trip as the train kept breaking down every 20 minutes. It was full of jocks that had taken the train from LA for a Dodgers baseball game in San Diego. Overall it was nearly a 48 hour adventure that just seemed to go wrong in every instance, but looking back, it's all pretty funny.

If you weren't a musician what would you be?
Reagan: 1. video game addict. 2. graphic designer. 3. personal chef. 4. lizard. 5. starship captain.
Do you have any particular gigs or festivals that you dream about playing?
Chris: I personally would love to play Glastonbury, The Yuma tent at Coachella, Sonar in Spain, Day Zero in Mexico, more gigs in Ibiza, and Fabric again! That isn't asking to much is it, haha! Also the recent SXM festival in the Caribbean sounds very interesting and fun.
Reagan: The Labyrinth festival in the forest in Japan has always been at the top of my list. It'd be amazing to put together a crazy show for the Hollywood Bowl one day! We also have dreams/plans of creating some really fun interactive art & sound immersive experiences in a Fine Art kind of setting.
Do you have any information regarding upcoming releases, projects or gigs in the pipeline that you would like to tell us about?
Right now we're very excited about the Kindisch Stories mix we've compiled over the last year. We dug around in the label's back catalogue and chose a selection of songs with parts that really called to us and remixed a handful, and then strung them together with some originals and a couple collaborations we did with Robbie Akbal in Barcelona a couple summers ago, to take the listener on a really fun sexy and groovy tripped out ride.
Other than that, we concoct new science experiments in the lab around the clock! We've got a new album in the works with some really fun music video ideas and other fun content, so we're working diligently on that at the moment!
Kindisch Stories presented by Dance Spirit is out on 21 April, via Kindisch.  Listen to the minimix below: