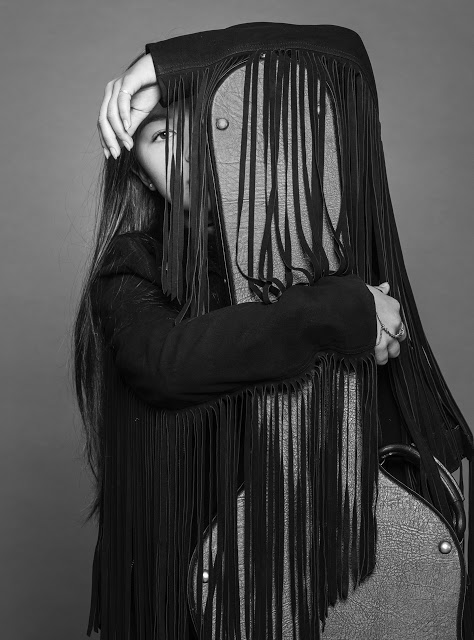 EXCLUSIVE INTERVIEW: Joplyn
Joplyn is a young Berlin-based artist who is attracting plenty of attention from major industry players. Her debut EP,
Cold Flames
, made such an impression on electronic heavyweights Booka Shade that they approached Joplyn about co-writing a song together.
The result is "Against The Stream", a dark pop track tinged with an industrial edge, where the contrasts and contradictions of modern urban life are sensitively explored. The song moves from "people starving hard on love" to a more hopeful, resilient message of courage in the face of the grim, impersonal city landscape: "Trying to live in undreamed dreams/Going against the stream."

We hung with Joplyn to chat about Booka Shade, the state of pop music, and her oneirological ambitions…
For those not familiar with you, how would you describe your sound?
I guess there's no exact definition to describe my sound, but I would say it's a mix of indie-pop, electronica and alternative R&B. Lyrically, I love working with oxymorons, and I intend for my lyrics to be eye-opening and food for thought.
Tell us about how your collaboration with Booka Shade came about.
Booka Shade contacted me right after I released my debut EP
Cold Flames
, which was about a year ago. They immediately wanted to collaborate and sent me various playbacks to write a song on. That was something I had never done before, as I prefer writing my songs on the piano, but it felt right. I wrote "Against the Stream" in about two hours because the lyrics and melody just came out of my mouth as if they've been waiting years to finally escape my mind. I recorded the song instantly and sent it back to them.
What are the 5 albums that have influenced you the most?
That totally depends on when you're asking! But some all-time favourites are definitely Lorde's
Pure Heroine
, FKA Twigs's
LP1
, Lana Del Rey's
Born To Die
, Sohn's
Tremors
– and all of Sade's and Aaliyah's repertoire.
What are your thoughts on the growing success of 'dark pop' acts such as FKA Twigs, Fever Ray, etc.? Do you think there's a desire from listeners for weightier songwriting in the pop music context?
Pop music is definitely evolving and getting more intense and weightier. More and more people are acknowledging music more as a high art form, where it's not only about some dull text and melody which is easy to understand and to sing along to. The purpose behind music is to evoke particular feelings, and to express yourself. That's why, I think, artists like FKA Twigs, etc. are so successful nowadays. Because their songs are not so plain, but they actually pull the listener into this different world of unknown emotions, which although it is dark and not at all blissful, you would never want to leave.
Are there any key pieces of equipment that you are using to define your sound?
A Rhodes piano, and an intense beat…
What would you say some of the challenges artists face today in the music industry?
In my opinion, staying true to yourself and true to your sound is priority when being an artist. Building up a name takes time and effort, sometimes you gotta walk the detours, but it's worth it. I just focus on doing what I do and hope to touch some people.
Where do you gather songwriting inspiration?
I have this one note on my phone, where I write down everything interesting that I encounter during the day – whether quotes I come across or just words that speak to me. And, I guarantee you, I'm the only one who won't get lost in the complete mess of that note! There's no real order or sense behind the words in there, it's just one captivating word after the other.
Take us through your songwriting process. Are there any particular steps you take when putting your music together?
I don't have a particular writing schedule, I just write whenever I feel like it. Most of the time, as I like to elaborate on little things, it only takes one short melody or line of text to trigger a whole song behind it. Then I just walk to the piano as fast as I can, humming the melody in my head, sit down, and continue from there. I don't see songwriting as an obligation, but rather as a way to free my mind, and I guess that makes me feel good and at peace with myself.
If you weren't a musician, what would you be?
I'd either be an actress, or I'd love to study the science behind dreams, because I feel like they're still so unexplored and I'd love to know more about them. Like, do they have a meaning? Who controls them? Are we in other people's dreams? Are we subconsciously dreaming our whole lives?
If you could perform alongside any other band or artist, living or dead, who would it be?
Do you have any particular gigs or festivals that you dream about playing?
Coachella, as I just love the atmosphere there and all my idols have performed there at least once. Glastonbury, because it's gigantic. And, personally, I'd really enjoy being a part of the Berlin Festival once, as it's my hometown and Berlin's got great music taste.
Do you have any information regarding upcoming releases, projects or gigs in the pipeline that you would like to tell us about?
Right now I'm working on my next single and potentially my debut album. Also, there's someone who'll be doing a remix of an upcoming single, a well known electronic artist, I just can't tell you who right now…
"Against The Stream" is out right now. Joplyn's debut album will be released later in 2017.