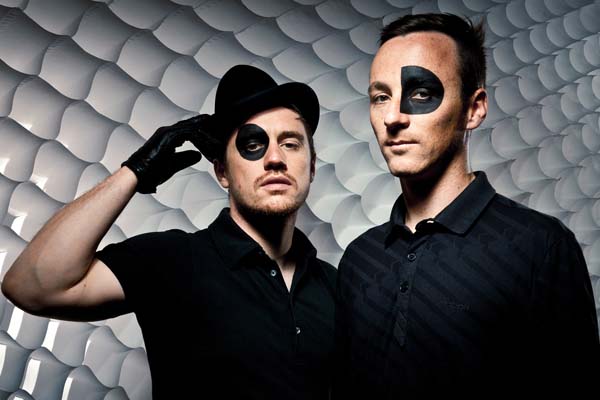 Interview with electronic music duo Obris Debris
Ogris Debris are the currently touring Austrian electronic music duo that have already done shows from Tokyo to Paris, London and Moscow with a string of 12″ singles and EPs in their wake. Co-creds include Round Table Knights, UK House maestro Joey Negro, Brownswood Recordings' Zara McFarlane, Richard Dorfmeister´s Tosca and Dorian Concept. We catch them somewhere between lyric-thirty and quarter-to-dance on a Thursday.
Where's your hometown? What's the scene like?
Vienna is quite vibrant electronic scene and music scene in general, there are lots of young artists. There are some bigger clubs and also smaller venues, a lot of different crews.
Tell us a bit about how you got started? 
We met at the 'Schmiede', which means The Forge. It's a place where producers gathered to exchange knowledge and experience. After that, we became friends and were making music in a collective with several other people, organising club events and forming different band outfits to cover genres like dub, funk, hip-hop and one of those outfits was a more dance-oriented live act which quickly became the duo that it is now.

For those unfortunate souls that haven't had the chance to listen to you yet, how would you describe it?
Our music is generally rather upbeat, energetic, funky and hopefully unique brand of dance music with a pop appeal. We are using all kinds of sound sources from synths to samples and we have vocals in a lot of tracks. The french producer Ark once said that we sound like "Christmas on acid" [Laughs]

What's your process when selecting music for a show? Where do you find your stuff?
Because we play our own tracks live, we have a setlist which we adapt to the length of the upcoming gig.
Can you talk us through your production process? 
We mostly working in shifts in the studio to be more efficient with the studio time. I (Gregor) most develop ideas, design sounds, compose, find samples for tracks and build sketches and loops and small arrangements. When I have something I want to expand, Daniel and me talk about it and then we develop a more elaborate arrangement, which Daniel pre-mixes and then we finish the track together.
What are your biggest musical influences? Are they all similar?
We have loads of musical influences. On the latest album we were quite open-minded. Of course a lot of electronic music, but jazz and funk are large factors as well as some kinds of rock, contemporary music and so on.
We are sometimes compared to acts like Nôze or dOP, maybe because of the vocals, but also people like Frank Zappa, Pharrell Williams, Queen, DJ Koze, Jamie Lidell, Matthew Herbert, Modeselektor, Four Tet or Brian Wilson come to mind.
Can you tells us your top 3 favourite tracks ever? (Sorry, we know it's tough!)
Squarepusher – Journey to Reedham
Jaco Pastorius – Portrait of Tracy
Rage Against The Machine – Killing in the Name Of
What would you say is the best set you've done so far? 
Our live shows are never really the same but at the same time we give all our energy, so it is really hard to say. This years gig at Vienna Popfest was pretty intense!

Any funny moments you remember from backstage or on tour?
One of the most funny moments was when we were playing at a festival where the promoters and the security had not really communicated well, so the security wanted to close everything down way before our stage time was over. So this security came up and said, "last track". And we were like "Uh, no, we're in the middle of the set!" The guy got really angry when we didn't want to stop, it was a back and forth thing until he started ripping out cables in the end. But the audience was screaming and wanting more all the time and we were playing Black Sabbath "War Pigs" in the end. [Laughs heartily]
If you could support one act, dead or alive, who would it be?
Prince maybe, or Miles Davis or Jimi Hendrix.
Anything else would you like to add about your process, your work or yourself?
We believe in the power of music and we want everyone to party with us. We work hard in the studio, trying to come with something that stands the test of time, but being on stage and living inside the moment is just what makes it all worth hustling for.
Does your inspiration usually come randomly or do you manage to summon it?
Inspiration can come at any time, sometimes you have to wait a little bit, but usually sounds have their own agenda, so you only have to stick around and follow them.
Do you have anything exciting coming up that we should be looking out for? 
We are currently touring with our album "Constant Spring", so you should be on the lookout for current live shows. Thanks for the interview!


Follow Obris Debris on their Homepage | Facebook | Twitter | Soundcloud