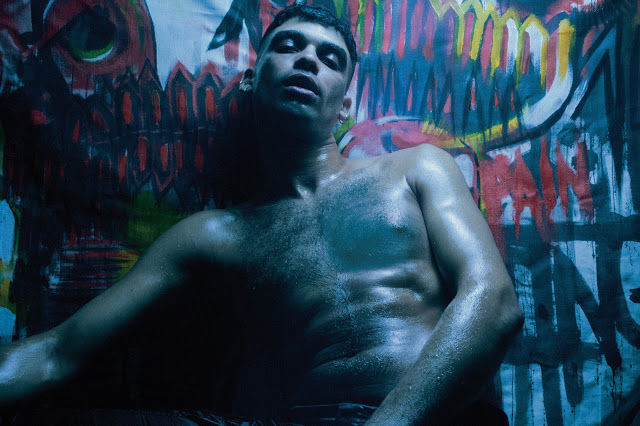 Wax Wings shares new album 'Gravedance'
A name that's becoming rapidly synonymous with a unique fusion of varying artistic influences, British-Brazilian Wax Wings continues to blur the lines between all genres that stand before him creating a magnificently dark and diverse sound.
Building on the remarkable success of his first two EPs 'System' and 'The Love Inside Me' which gained strong support across the airwaves from the likes of BBC's Radio 1's B.Traits and Monki 1, Wax Wings returns with the six track 'Gravedance' EP.
The lead track 'Gravedance' is a club ready weapon with powering synths and thunderous percussion . 'Drunk' takes things down the more straight techno route whilst maintaining the dark and moody aesthetics laid out across the entire EP. Following up with '27 Club', Wax offers another sound system orientated cut, guaranteed to shake rigs from London to Ibiza – a circuit he is becoming accustomed to…his tour diary has taken him across the globe playing some of the most highly regarded clubs and festivals including The Warehouse Project, HYTE, SW4, Secret Garden Party, Milkshake Festival to name a few. He's also supported Maya Jane Coles on her recent tour dates across the globe.
Three more dance floor focused weapons come in the form of 'Checkmate', 'OSOM' and 'Toxic Love'. As well as designing the artwork himself, the EP in its entirety is a comprehensive hybrid of his genre-bending production skills.
Wax Wings is an artist in the truest sense of the word from painting, fashion, graffiti, photography, art direction through to music. The young producer/DJ already has some impressive remix credentials under his belt including Maya Jane Coles' Noctural Sunshine, Nimmo, The Presets, Eli & Fur and GAPS, and has collaborated with artists such as Skunk Anansie's Skin and Dead Can Dance's Lisa Gerrard.
He runs his own clubnight at London venue Dalston Superstore; a concept created with fellow DJs Coco Cole and Anna Wall inviting some of the wildest drag performers on the scene to take the stage, plus with it's open-minded crowd and music policy it's fast becoming an essential party hotspot. Wax himself is a man of many faces and fashions.
Wax Wings – 'Gravedance' EP
1. Gravedance
2. Checkmate
3. 27 Club
4. OSOM
5. Toxic Love
6. Drunk
'Gravedance' EP is Out Now via The Weird & The Wonderful X Skint. Listen to 'Gravedance' below.