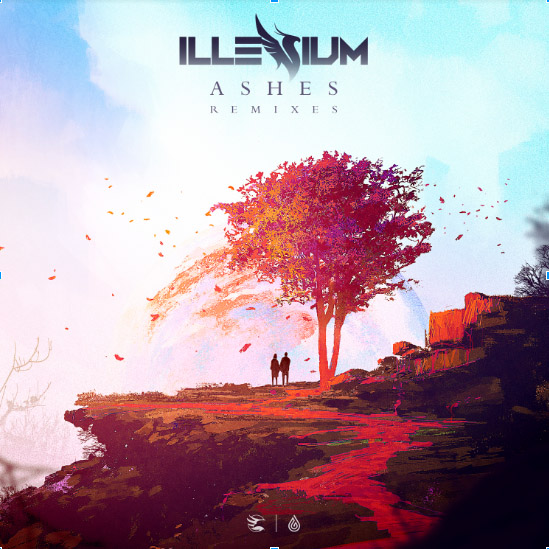 Synchronice, Dabin, Ryan Exley remixes for New Illenium "Ashes Remix" Album
Synchronice, Dabin and Ryan Exley are among an elite handful who have completed remix duties for EDM megastar Illenium's new remix album "Ashes Remixes".  Other big names include Mr Fijiwiji, Crystal Skies and Just A Gent. The record is now available via Seeking Blue and Kasaya Records. "Ashes Remixes" is the follow-up offering from the Denver-based melodic bass producer, who has already notched up a No. 1 spot on the iTunes Electronic Charts for debut album "Ashes".
In a few short years, Illenium (real name Nick Miller) has produced an outpouring of captivating remixes and haunting originals that has garnered him a devoted following and has seen him rise quickly in the ranks of the dance music community to become one of its most beloved stars. With a lifelong passion for music, Illenium's devotion to music became permanent after a Bassnectar show at Red Rock, "When I saw him, I got Ableton the next day.", says Miller. After honing his skills in the bass music sphere, Illenium has gone on to remix Kaskade, Odesza and Galantis and has performed at Red Rocks himself. Shortly after releasing his debut album 'Ashes', in early 2016,  Illenium's  "Fortress (ft Joni Fatora)" went viral on Spotify.
Brothers Will and James (aka Synchronice) have given their take on "Reverie (King Deco)" a super-chill finish, complete with vocal sample melody and the half-time rhythm we've come to expect from proper chillstep. According to their official Facebook page, their motivation is "to make music that hits you in the heart."
Take a listen to "Reverie (ft King Deco)"

"Ashes Remixes" Album Tracklist:
01 Reverie (feat. King Deco) (Synchronice Remix)
02 Fortress (feat. Joni Fatora) (Just A Gent Remix)
03 With You (feat. Quinn XCII) (Crystal Skies Remix)
04 Sleepwalker (feat. Joni Fatora) (Virtu Remix)
05 It's All On U (feat. Liam O'Donnell) (K?d Remix)
06 Without You (feat. SKYLR) (Ryan Exley Remix)
07 Sound Remedy & Illenium – Spirals (feat. King Deco) (William Black Remix)
08 Illenium – Only One (feat. Nina Sung)(Kill Paris Remix)
09 I'll Be Your Reason (FURY Remix)
10 Afterlife (feat. Echos) (Dabin Remix)
11 Illenium – With You (feat. Quinn XCII) (Hazey Eyes Remix)
12 Illenium – Without You (feat. SKYLR) (Ryan Exley Remix)
13 Illenium – Only One (feat. Nina Sung) (It's different Remix)
14 It's All On U (feat. Liam O'Donnell) (T-Mass & LZRD Remix)
15 Fortress (feat. Joni Fatora) (MrFijiWiji Remix)
Friday, December 2, 2016 – Playstation Theatre (Ashes Tour), New York City, NY
Wednesday, December 7, 2016 – Ogden Theatre (Ashes Tour), Denver, CO
Thursday, December 8, 2016 – Ogden Theatre (Ashes Tour), Denver, CO
Friday, December 9, 2016 – The Observatory (Ashes Tour), Santa Ana, CA
Saturday, December 10, 2016 – The Novo (Ashes Tour) Los Angeles, CA
Sunday, December 11, 2016 – The Novo (Ashes Tour) Los Angeles, CA
Wednesday, December 14, 2016 – Animus City Theatre (Ashes Tour), Durango, CO
Thursday, December 15, 2016 – Belly Up (Ashes Tour), Aspen, CO
Friday, December 16, 2016 – Agave (Ashes Tour), Avon, CO
Wednesday, December 28, 2016 – Wonder Ballroom (Ashes Tour), Portland, OR
Thursday, December 29, 2016 – The Snowbox (Ashes Tour), Seattle, WA
Saturday, December 31, 2016 – Snowglobe, Lake Tahoe, CA
Saturday, January 14, 2017 – Shôko Barcelona, Barcelona, ES
Saturday, January 21, 2017 – The Republik (Ashes Tour), Honolulu, HI
Saturday, January 28, 2017 – Life in Color Festival, Miami, FL
Instagram: https://www.instagram.com/illeniummusic/