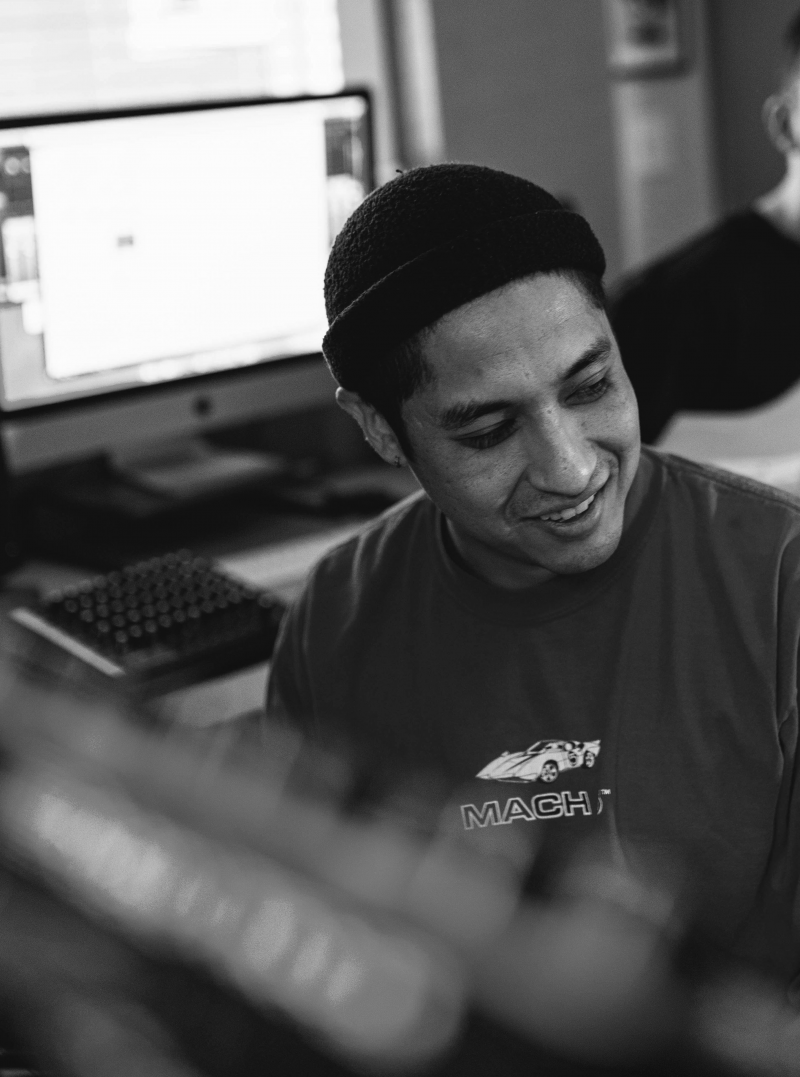 Q&A with transcending electronic music producer Danny Goliger
Image credit:  @shaoyan.pang
Releasing his debut album via Justin Hay's Fantastic Vogage imprint earlier this year, music producer and audio engineer Danny Goliger has shared his new EP Sustain via Dirtybird. This EP is packed with minimal electronic tracks that transcend genre brackets and leave one feeling like they can relax their mind after a hectic day. The featured track 'Deliverance' is a mellow electronic experience that exudes tranquil energy, but is a captivating listen for minimal electronic fans. This EP release forms part of Dirtybird's White Label series, which gives a platform for emerging producers that don't feel the need to conform to a particular genre the room to shine and share their delightful deconstructed and experimental beats.
We chatted with promising music producer Danny Goliger below.
Who were your first musical influences that you can remember? Who inspired you to start producing music?
My first involvement with music was actually classical piano! I started playing at the age of 5, but didn't really fall in love with music until I started drumming and playing in bands as a teenager. Around then I started to discover underground hip-hop and my whole life changed. I started messing with producing on a computer around the age of 13, and I was obsessed with artists and producers like J-Dilla, Nujabes, Pete Rock, and DJ Premier. My earliest efforts are all jazzy sample-based hip-hop. Also around that time, the LA beat music scene was starting to bubble up, and I was majorly influenced by all those artists like Flying Lotus, Thundercat, Teebs, Dibiase, Tokimonsta, and all the early Brainfeeder crew. I used to go to their party Low End Theory as often as I could. Then at the age of 16, I went to my first big rave at EDC 2009. After that, I started to dive into dance music which eventually led me here!
What would you like to achieve with your music? What does success look like to you?
Musically, I feel like I have two different sides to my artistry. On the one hand, I would like to make immersive beautiful electronic music that is very emotive and listenable. I want to be able to transport people into their own little universe through my composition and sound design. I feel like all of the records that have had a deep impact on me as a person create some sort of magical place for the listener to be transported into. Inside that place, you learn more about yourself and that is why those records are so meaningful.
On the other hand, I would like to make absolute dance floor bombs. I'm such a diehard raver, and I love high-energy electronic music. I spend a lot of time listening to tracky DJ music like techno, jungle, electro, UKG, house, etc. This is the side of my artistry that I try to present when I DJ, curating a dynamic dance floor experience. I feel like these styles often require a different approach to producing that is more stripped back and minimal from a composition perspective, and I would love to create crazy bangers that every DJ hears and immediately wants to play.
At the end of the day, the goal is fairly similar regardless of a different approach. Dancefloor experiences can be powerful and transformative, just like listening to an amazing well-written song. Success to me involves taking people to that place and creating immersive experiences for them.
What does your current software/hardware setup currently consist of?
Right now I use a mostly hardware studio to write my ideas. The ideas get recorded into Ableton as jams, which get edited, processed, and mixed in the box. I love that combination of hardware ideation, with software precision that I can get from this workflow. On the hardware side of things I use an Elektron Analog Keys, Elektron Octatrack, Moog Slim Phatty, Make Noise 0-Coast, Roland TR-8, and a constantly growing Eurorack Modular setup to create the sounds and write the songs. This all gets recorded through a UAD Apollo 8 into the DAW which I use to fine-tune the arrangements and mixes. I also have some hardware FX (like guitar pedals, cassettes, reverbs, etc) that I use to process the sounds before or after they have been recorded.
Outside of music, what inspires you?
Food is a major inspiration for me! I feel like cooking has a lot of similarities with music, where you are trying to use multiple ingredients to achieve harmony and balance, creating something that is greater than the sum of its parts. Nature and science are also huge sources of inspiration. Both of my parents are actually scientists, so I grew up in a very science-orientated household. I'm in constant awe of the world around me, and I try to spend time outdoors so I can enjoy the natural world.
What kind of relationship do you have with the internet? How does this inform your artistic expression?
I feel like I have a pretty rocky relationship with the internet (as do many people I'm sure). On the one hand, it is an amazing tool, and I am so grateful to have access to the entirety of collected human knowledge in my pocket. The ability to access information nowadays is amazing and I wouldn't want to live without it. It is also a great way to connect with people! I have started many friendships in the music industry as internet friends, connecting over a shared passion for music and mutual friends.
On the other hand, I'm always concerned about the effects that the internet has on our society. I'm worried about social media, the spread of misinformation, the proliferation of hate speech, and its effects on our democracy. I was very skeptical of social media for years and went a really long time without any internet presence whatsoever until finally creating an Instagram account in the past couple of years. It's taken me a while to feel comfortable using it to talk about myself and my music, and I'm still learning how to do it in a way that feels authentic to me. I've noticed some definite personal benefits from being online, but I'm also concerned with how addicting it is. So I guess what I'm trying to say is that it's a mixed bag
As far as my artistic expression, I released an album this year that was very inspired by the concept of a digital dystopia. I was going through a tough time in my life and kept feeling that I was stuck in a broken computer simulation. That feeling is the central theme of my debut album.
As a performer or as a member of the audience, what single show has been the most memorable for you?
I have so many, it's really hard to boil it down. I play in my friend Justin Jay's band and we performed at Bonaroo in 2018. We went onto this gigantic stage and performed for an hour while the sun set. It was pretty insane, the crowd stretched on forever. I still look at pictures and videos of that show and can't believe that it actually happened. That one will definitely stick with me forever.
Any new or upcoming artists on your radar?
Ya tons! So many of them are my friends, and I'm consistently inspired by the people around me. People like, Benny Bridges, Sensor (aka Sam von Horn), DJ Health, Nikki Nair, Farsight, AK Sports, Mary Droppinz, Morelia, Choopsie, Michael Fam and Robot Love are all making insane music, and I'm honored to call them my friends. Also tons of people I don't know, but I'm enamored with their work. Artists like Kessler, Doss, Tom VR, Hugo Massien, Luz1e, Amadeezy, Kush Jones, Ayesha, and the Club Glow guys (Denham Audio, L Major, Borai and Mani Festo) to name just a few.
Please suggest an album for us to listen to.
I have been obsessed with Joy Orbison's album (mixtape?) still slipping vol. 1. It came out a couple of months ago on XL and is an absolute masterpiece.
What can we expect from you in the near future? Any upcoming projects or gigs in the pipeline that you would like to tell us about?
I work with Justin Jay on his label Fantastic Voyage. We are celebrating the 5 year anniversary of the label with a series of 3 compilations and I have tracks on each disc of the compilation. I'd definitely recommend checking out the whole thing, as we have some of my favourite producers releasing tracks with us for the 5-year celebration.
We are throwing a big warehouse party in LA to celebrate the 5 year anniversary. That's my last big gig coming up this year, but it should be an absolute banger. We got a crazy lineup coming through with a very very special secret guest set.
Also, Justin and I are releasing a split EP in March on Scuffed which is one of my absolute favorite labels in the UK right now. Each of us has one solo track and then 2 collab tracks on the EP. Heavy dance floor bangers that I'm very excited about.
Famous last words?
Don't worry, I can make this track better if I just keep tweaking it…
Follow Danny Goliger:
Instagram | Soundcloud | Spotify
Follow Dirtybird:
Facebook | Twitter | Instagram| Spotify | SoundCloud