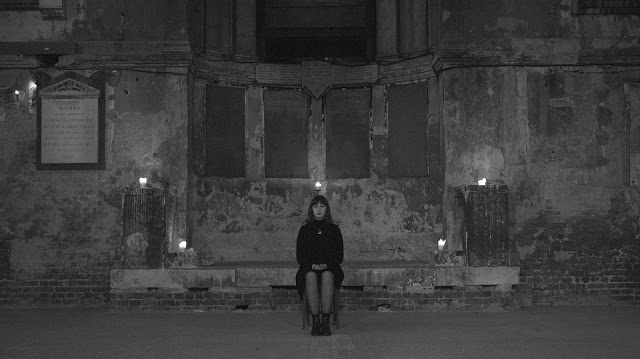 Interview with London Based music producer Dear Pariah
We caught up with, Dear Pariah, the moniker for London based artist Charlotte Hinchcliff, a 26 year old British singer-songwriter and arranger. Her voice holds the weight of an old soul on young shoulders, with a distinctive sound that demands your attention.
Her debut self titled EP was released in August 2012 and was well received by Amazing Radio's Simon Raymonde and Ruth Barnes.
In May 2014, she won the Emerging Music Competition on Amazing Radio.
Having spent the last year writing new material, her highly anticipated second EP (co-produced by Brett Shaw (Daughter and Florence & The Machine) was released on October 2014 and also received an Emerging Excellence Award from Help Musicians UK, which helped fund her debut album Misc released on 1st May 2016.
Hi Charlotte, how are you and what are you up to today?
I'm good thanks! Just replying to emails and still buzzing from a show I played at St Pancras Old Church recently!
To those not familiar with you, how would you describe your sound?
That's a tricky question. I'd say it's ethereal folk n roll, not that that's actually a genre but it's about as close as I can get to describing it.
What are the 5 most influential albums that have influenced you the most?
Joni Mitchell – Both Sides Now
Ane Brun – It All Starts With One
The Dresden Dolls – (Self Titled Album)
Pretty much every album by Neil Young.
Which other artists are you into at the moment and why?
I've been listening to Deerhunters album Fading Frontier on repeat lately. I've just started working with a Moog synth player who's joined the band and it's made me really appreciate the instrument. I love Deerhunters lyrics and his attitude.
I've also been listening to Department of Eagles album In Ear Park a lot, the arrangements are incredible and Daniel Rossens voice is beautiful. His solo album Silent Hour/Golden Mile is really great too, that's also been on repeat.
Other than that, the new PJ Harvey album The Hope Six Demolition Project has been a go to album on most days. She's one of my idols, I absolutely love her.
Are there any key pieces of equipment that you are using to define your sound?
Yes, I use a TC Helicon Voice Tone E1 pedal for my vocals that creates a delay/feedback sound on my voice. I don't use it throughout the whole of a song, but it creates a really great atmosphere if you use it tastefully.
What would you say some of the challenges artists face today in the music industry?
For me personally, I'd say that the main challenge is keeping momentum. I suffer from pretty bad bouts of depression, I'm not ashamed to admit that. In those times, the world doesn't stop with you, the orders/emails from fans etc still keep coming so it can be difficult to keep on top of it all. Ultimately though, I never forget why I do it, which helps.
Where do you gather songwriting inspiration?
From life experience mainly. I generally channel the darker side of my mind into my songs, to work through the mess.
Take us through your songwriting process. Are there any particular steps you take when put music together?
I usually get an overwhelming urge to sit down and play, so as long as I'm home I set everything up and get myself ready. I never force myself to write, I've tried a few times and have hated everything I've created.
Once I'm all set up, I fiddle about on my guitar and find chords that resonate with my mood at that time. Sometimes that takes a while, sometimes it can be within 5 minutes. After that I'll press record on my phone and I'll start improvising some vocal melodies, lyrics. Usually at this point a lyric will stick out and I'll run with that. Then, if all is going well, the rest of the words will flow out onto paper within 10-20 minutes. It's really quick, it freaks me out sometimes at how quickly a song will be finished.
I generally don't tweak the words too much after that, I see songs like photographs, they're a snapshot of that specific moment and that specific emotion.
What's the best gig you have ever done and why?
I'd say the best gig lately was supporting Steve Gunn at his sold out show in The Lexington last month. I walked on stage and people started clapping before I'd even played. That's never happened before. It was really packed, really quiet and the energy in the room was amazing.
I'm fortunate enough to say I haven't played in an awful venue for a long time, I can't honestly remember the last awful show I played. I pretty much blacklisted any venue I hated about 3 years ago and have made sure not to accept bookings there again.
If you weren't a musician what would you be?
I've always been interested in psychotherapy, so maybe that. I have no real idea, I try not to think about a plan B.
Do you have any particular gigs or festivals that you dream about playing?
I'd love to play at End of The Road festival this year, the line-up looks amazing. Glastonbury obviously. Venue wise I'd say The Union Chapel and The Royal Albert Hall. Dream big, right!?
If you could perform alongside any other band or artist, who would it be?
Do you have any information regarding upcoming releases, projects or gigs in the pipeline that you would like to tell us about?
My debut album 'Misc.' has just come out, you can buy it via iTunes or bandcamp or you can stream it on Spotify!