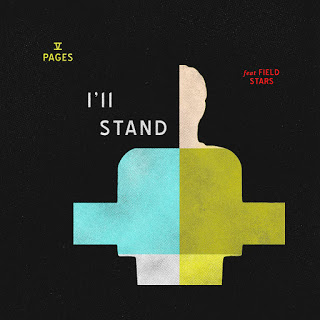 V Pages share visuals for "I'll Stand"
Producer Dom Morley's concept V Pages (pronounced "Five Pages") teams up with Field Stars – Colin MacIntyre from Mull Historical Society's upcoming alt.pop project on new single "I'll Stand" released on Mea Music.
Morley has engineered and mixed the work for an impressive catalog of artists including Amy Winehouse's number 1 "Back To Black" album for which he was awarded his Grammy. Included amongst his legendary back catalogue of work are none other than megastars Adele, Mick Jagger, Grinderman (Nick Cave), Underworld, Sting (The Police), Solomon Grey and Richard Ashcroft (The Verve) to mention a few.
"With V Pages I started out trying to make something that sounded like what I thought might happen if Chvrches suddenly discovered The Pixies and The Verve. Obviously other influences came in along the way, including Alessandro Cortini, M83, and of course the people I've worked with on this project (including Field Stars, Solomon Grey, Saint Saviour)", says Dom.



V Pages is set to release his new EP "After the Storm" on 5th August.

Follow V Pages:
Facebook: https://www.facebook.com/fivepagesband/
Twitter: https://twitter.com/v_pages
Soundcloud: https://soundcloud.com/v-pages
Youtube: https://www.youtube.com/channel/UCTRhTZWrwUV7uh_JvJ7YMYg