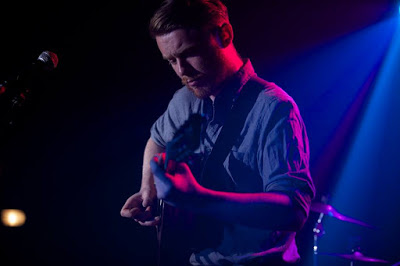 Interview with country blues musician Jake Watson
We caught up with
Jake Watson
, the North London based musician who is often found busking with his Banjo and Guitar beside the banks of the Thames. Reminiscent of a mix between
Robert Johnson
&
Roscoe Holcomb
, he has toured across the UK and been in the Independent Music Reviews top 50 folk acts to watch out for. Taking a mixture of Jazz, Blues and Ragtime – it is safe to say that his music is there to be enjoyed by people young and old, rich or poor, or who just love to stamp their feet and have a ho-down.
Hey Jake, how are you and what are you up to today?
Hello, r
eally good thanks. Today I'm restringing my banjo, finding a clean shirt to wear, then heading over to play a show at Jamboree in Shadwell, with my double bassist George.
To those not familiar with you, how would you describe your sound?
It's sort of country blues, with some 1920's style ragtime and Jazz thrown in for good measure. It's pretty loud, twangy banjo, slidey blues with a huge thumping double bass behind it. The sort of music that people yell 'Yee-haw' at, but don't really know why.
What are the 5 albums that have influenced you the most?
That's a really hard question. I'd have to say that 'Bob Dylan – Highway 61 Revisited' was the album that really made me fall in love with americana.
The 'Townes Van Zandt' self-titled album is pretty amazing, probably a collection of the saddest songs ever.
There was a guy called Frank Fairfield, who sadly no longer plays music, his album 'Out On The Open West' was insane, the banjo and guitar playing is something else… He constantly has blood on his banjo head from picking so hard, I guess thats the sign of a true banjo player, I've been trying to mimic his playing for so long.
'The Pogues – Red Roses For Me' makes me so happy. Shane MacGowan at his best, it's just the insanity and speed of it.
Finally, 'Tom Waits – Heat Attack and Vine', a friend played me that album not to long ago. I just really loved the album cover to, Tom Waits on the front of a newspaper in a tux…
Which other artists are you into at the moment and why?
I really love Bill Ryder Jones at the moment, I've been listening to 'West Kirby County Primary' back to back. I like songs with english town names in and always hold a place in my heart for moody lo-fi grunge.
CW Stoneking – I'm obsessed with. Crazy guitar player who just performs with two gospel singers and a double bassist. Really is just so energetic blues, gospel, country stuff.
Are there any key pieces of equipment that you are using to define your sound?
I just really on none of our strings to break and to have a harmonica in the right key. My double bassist George uses some compressor pedals to make sure his double bass doesn't start humming, that things a beast and really does need taming (in an audio sense). We're a pretty basic set up though.
What would you say some of the challenges artists face today in the music industry?
I think people are saying yes to things they shouldn't. Not getting paid for gigs, giving music away for peanuts. I don't mean 'selling out', because they aren't making any money. I mean no artists really know what's going to be beneficial for them because the industry is just insane and throws ridiculous offers and opportunities around to see who will bite. Artists should value what they do – their performance, their music, their image and so should the people who exploit them. Sadly, I'm guilty of bending over backwards for the chance to play a relatively good show or sell a CD, every artist is.
Anyway, I get scared talking about the music industry, I feel like if I pick on it too much I'll wake up with a horses head in my bed. I'm not a confrontation man and to be honest my biggest challenge is trying to carry a banjo from Camden to Hackney on a bus without it getting squished.
Where do you gather songwriting inspiration?
From good people and all the crazy stories they tell me. I find when people come and talk to you after gigs they just unload and tell you really bizarre things that make fun songs. I finished playing a show once and a really nice lady approached me and told me she was a medium. She went on to essentially explain in my past life I was a man from 1800's and had played in a jug band, she predicted my death, bought me and my friend a glass of prosecco and left us be. It was brilliant, I haven't managed to pen a song for that occasion yet, but it sure inspired me to start a jug band and not die.
Take us through your songwriting process. Are there any particular steps you take when put music together?
I normally think up a line I really like the sound of and over weeks of sitting on the tube, very bored, construct a song from this line. I then take it to rehearsal and play it how I wrote it, then it gets messed around with and turned into something different. Songwriting is so weird. I'm envious of people who can be really deep about their songwriting and explain the 'creative/mental' process they took to construct it, I just swipe the pen across the paper and hope people something listenable comes out. Job done.
What's the best gig you have ever done and why?
I've been fortunate enough to do lots of really fun shows. Still my favourite one to date has to be playing to a rammed out basement in Cheltenham during the race week, years ago. I could barely move, my guitar was knackered, and everyone was soaked in sweat. I was getting heckled to play faster and faster, in return – the beers and shots were stacking up next to me. I played Jackson by Johnny Cash on double time, broke nearly all my guitar strings then snuck out of there before the glasses started flying round.
A motor festival in Cirencester during a thunderstorm, no more to be said.
If you weren't a musician what would you be?
I nearly applied to be a nurse, I'm pretty squeamish though so that would have been hard. I would also have liked to have been a milkman. I got a free ride on a milk float at about 4am on the way home from a gig once, he was going to Golders Green where I was living at the time and had no more deliveries, so I got sit next to him. We spoke about accordions and how things were apparently better 40 years ago. I mainly nodded because despite Milkman driving slow, wobbly carts and delivering milk to old ladies – they are hard as nails.
Do you have any particular gigs or festivals that you dream about playing?
Not so much, I just love playing to a busy room and getting a good reaction. Wouldn't say no to Glasto though, obviously.
If you could perform alongside any other band or artist, who would it be?
I would love to have played with Johnny Cash, that would have been pretty fun. Singing a duet with Shane MacGowan is on the to do list.
Do you have any information regarding upcoming releases, projects or gigs in the pipeline that you would like to tell us about?
We are gigging weekly and it doesn't really stop as when we're not gigging we try to busk, we promote all our shows pretty heavily so they're all online!
I'm currently in the process of finishing up my first record release in about 3 years, I'm really proud of it. We recorded it in my front room over a weekend, so it was intense. It'l be out online and I'll be selling them from a big old suitcase at gigs, I guess just watch this space – that's what they say isn't it!?