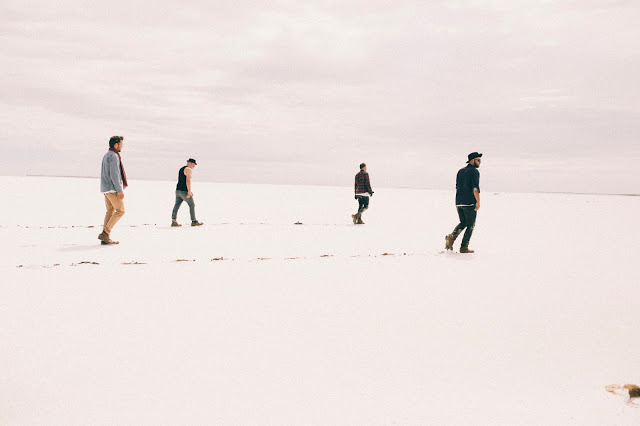 Swiss band of brothers release new EP worldwide

Double platinum-selling Swiss band 77 Bombay Street have released their new EP "Seven Mountains" worldwide via Gadget Records. Having shared stage with The Cure, Sting, Kasabian, Arctic Monkeys, Imagine Dragons and more, the Swiss-born brothers had their debut album 'Up In The Sky' (2011) going double platinum with the single of the same name going one step higher at triple platinum and also going on to triumph in the Swiss Music Awards winning in the categories 'Best Album Pop Rock National' and 'Best Hit National'. The new tracks were recorded at Sydney's Linear Recording Studios and produced by Chris Vallejo (Passenger and Empire Of The Sun) and already had support from the likes of Redbull.com, All Music, Indie Shuffle, The 405, PopMatters and more.
77 Bombay Street
have played more than
three hundred concerts in the past seven years including appearances in Swiss festivals
Montreux Jazz
,
Gurten, Paléo
and
Open Air Gampel
as well as performances at European festivals such as
Eurosonic Noorderslag
,
Le Printemps de Bourges
and
Reeperbahn
and gigs in Germany, England, France, Italy, Sweden, and the Netherlands as well as countless tours of their home nation.
The four brothers comprised of
Matt
,
Joe
,
Simri-Ramon
and
Esra
Buchli
draw
common comparisons to
The Beatles
,
Snow Patrol
and
Kings of Leon
although the band say they seldom listen to contemporary music, being driven by their own life experiences as influence.
"The lead single "Seven Mountains" is a reference to our ups and downs. As a band, we have really been shaken about over the past few years: we had to find ourselves anew," says Matt Buchli. While searching for themselves, 77 Bombay Street has really developed in leaps and bounds. The vocals on the new EP have a noticeable confidence. In terms of their style too, they have explored new genres, adding elements of classic to their more usual folk-rock style. For the first time ever, they have supplemented their acoustic sound with stringed and wind instruments. Despite being in their seventh year, there isn't a hint of a seven-year itch here; this is all about a brave new Bombay sound.