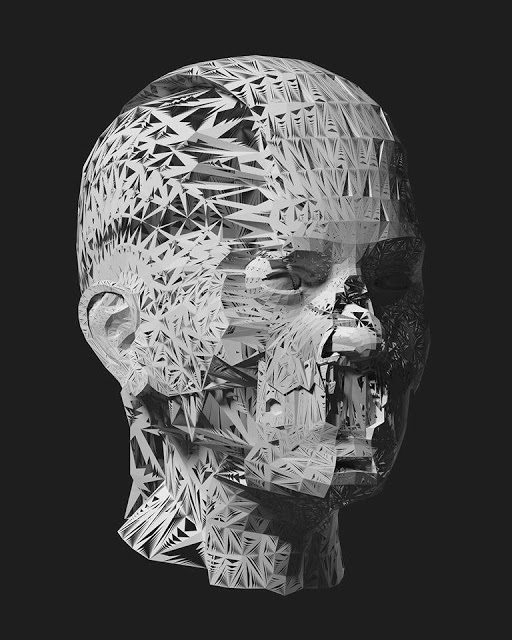 Behind the scenes with experimental electronic artist AUXX
We caught up with experimental and multi-genre electronic producer from Bath, United Kingdom, AUXX. Following the signing of his debut release "Harmonics Contrast" with URBNET Communications Ltd./Fontana North, he has since been notably supported by the BBC, with interviews and airplay on behalf of BBC Introducing, BBC 6 Music, and received support from of Mary-Anne Hobbs, Kidkanevil, Elaquent and Iglooghost (Brainfeeder). And if that wasn't enough he is currently remixing Warp stalwart PLAID.
Hi there, how are you and what are you up to today?
Hey man, I'm great thanks. Just got back from the super intergalactic town of Frome and just started a new track with a dope MC from London for this new release. Also gathering this tracklist for my third set with the BBC. Super excited for people to hear it.
To those not familiar with you, how would you describe your sound?
I've never been able to properly describe my own sound. From like 2011 onwards I was making beats influenced from Alpha Pup/HW&W records, and badly wanting to play Low End Theory (jealous my dude Iglooghost beat me to it btw), so I've always been influenced by Hip Hop originally. Since then – Jungle, IDM, Footwork, Warp records, and ambient tapes have had an incredible influence on my most recent work. So yeah, if I could put everything into a nutshell, its "Experimental Electronica". Thats the best summary you'll probably get from me.
What are the 5 most influential albums that have influenced you the most?
The Roots -" Things Fall Apart", and The Strange Fruit Project – Soul Traveling'. These were really the only full length albums that were a crazy influence on me, and I'd find it hard to name any others that had as much of an impact on me.
These two projects really had what I was looking for in terms of the urban, gritty and conceptually "real" sound that I could never find, especially living in the incredibly middle-class town of Bath. It's all indie stuff here, so to find these albums at quite a young age was truly inspiring. I really did feel as If I could relate to them, and still do, whether it's through my sound qualities and music production.
Which other artists are you into at the moment and why?
I've been into labels/Imprints rather than individual artists really. Been listening to the back-catalogue of Warp and Ninja Tune, Hyperdub etc. And that always inspires me to make weirder stuff, or study what sound they really try to push as their own independent label. I've always been a great fan of my girl Holly Herndon though, and recently picked up Laraaji, Kode 9, Autechre and Squarepusher on wax. Those guys are crazy.
Are there any key pieces of equipment that you are using to define your sound?
Always rewired my Ableton Live with Reason 5 since Flying Lotus told me thats what he does to make music. Once I tried that out I've been hooked to those programs since. Amazing workflow, and definitely found their perks to making my own stuff without limitations.
I've been more about programming within MIDI, resampling, and then using the SP 404 to process audio. The compression and tape delay on that sampler is dope. I've never been too crazy on Hardware though. Might source out for an MS20 or Moog synth at some point.
What would you say some of the challenges artists face today in the music industry?
As Steve Beckett of Warp said, – "You have to take and repeat the little steps that develop your sound, and profile as an artist." I think thats an important quote to abide by for upcoming musicians. Like don't expect to sign some crazy deal unless you've put the time and effort continuously into your craft and/or seek anything in return for your work, especially until you know the time is right to ask. I know so many musicians who ask for crazy payments when they've only ever played about 3 gigs with no EP/LP releases.
Social media is crazy at the moment man. I think that everything has gone completely backwards in this industry with Spotify and digital downloads. Labels are taking 50%+ of all income and it sucks for independant/upcoming artists if the business isn't done right.
Although, one dope thing is that vinyl has come back. Thats awesome.
Where do you gather songwriting inspiration?
I'll get the ideas from anywhere man. Whether it's from what I'm experiencing at the time, to weird melodic samples and interesting drum sequences I've discovered. It varies. But my album "Harmonics Contrast" was almost entirely emotionally driven. 2015 was a crazy year.
Take us through your songwriting process. Are there any particular steps you take when put music together?
Most of the time I'll just freestyle the ideas, sitting in front of my gear, synthesising weird sounds and microsampling to a drum pattern I've knocked together. I've also recently tried a method of literally writing down the way a song sounds on my notepad, and then creating exactly what I've written without getting too lost with the technological side of things, which is always tempting as an electronic musician.
A new track I've produced was a perfect result of this. Managed to nail the texture, atmosphere and everything from what was in my head. Will probably go on the upcoming release.
What's the best gig you have ever done and why?
The BBC 6 music festival was crazy. It was like a milestone, and to have so many people vibe to my stuff that day was a blessing.
It was really well organised, great vibes, and the people at BBC Introducing were really supportive. Many thanks to the interviewers and photographers there too. I had loads of fun.
Motion in Bristol was also really fun. They gave me way too many rounds of beer so I can't remember most of it. Brought my friends along too. Found a crazy secret entrance backstage to the next door venue and ended up vibing with Skream.
If I can't dance to my own set then I'll know everything has gone lop-sided. I usually forget I'm playing to people when things go well, as I get very lost in whatever it is that i'm playing and nod my head too much. For now everything has been going well, and fingers crossed it'll stay that way. Many years ago I sang in the Bath Abbey Choir though…does that count? Haha, singing to old church congregations on Sunday mornings certainly wasn't my vibe for a decent gig.
If you weren't a musician what would you be?
I'd be a very lost kid. Being a musician has kept me away from a lot of what I could've been distracted by, dragged into and the bullshit surrounding it. It all sounds very cliché, but its certainly true when It literally feels like its physically apart of me. It's something I wear daily.
Do you have any particular gigs or festivals that you dream about playing?
Sonar Festival in Barcelona. Like, that was my first ever experience going abroad and heading to a festival. So everything was incredibly new to me. It was only last year as well.
If I could return there but play a set, It would truly feel as if I'd gone full circle.
If you could perform alongside any other band or artist, who would it be?
Roots Manuva. Would be so dope to play alongside someone who I've spent the majority of my life listening to.
He sounds like a genuine lad too…propa Landana.
Do you have any information regarding upcoming releases, projects or gigs in the pipeline that you would like to tell us about?
I'm currently remixing for Plaid on Warp Records, doing a mix for BBC Bristol, and working on a new release! Project is well set, having some awesome people involved, and it is almost done. There's very cool things popping up along the way. We shall see you soon.
Listen to Auxx's track "Harmonics" below: