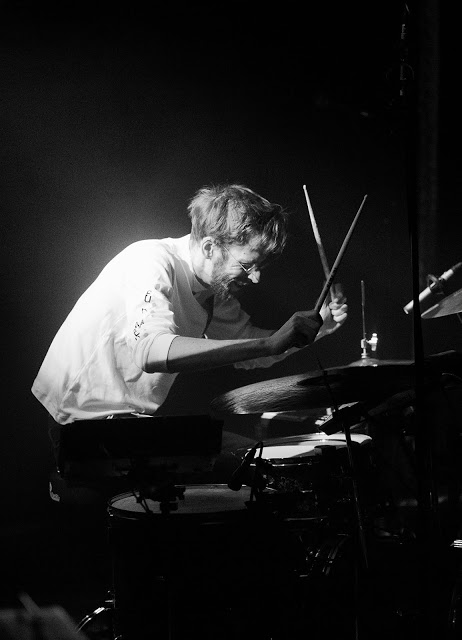 JBXDR announces his upcoming track 'Wave Talk'
The Berlin-based producer and drummer Jörn Bielfeldt, aka JBXDR, announces his upcoming kaleidoscopic LP "Wave Talk", scheduled for July 6th release via Springstoff. JBXDR is a live project that combines experimental techno soundscapes with overacting drum beats performed by Jörn Bielfeld. His upcoming LP presents 12 tracks including the track 'Single Slice Of Time' which was released the 19th of September 2017.
2017 was a great year for JBXDR's festival appearances; notably both Fringe and The Great Escape in Brighton, UK, as well as an array of local festivals in throughout Berlin, Germany such as Reeperbahn Festival, Übel und Gefährlich, Hakken, Badehaus, Plötzlich am Meer, At.tension #7, LALA Festival, Habitat Festival and many, many more, showcasing his talent and supreme energy wherever he may be.
JBXDR's latest LP and magnificent body of work, "Wave Talk" is a mystifying journey like no other; the album's opener "Mass Adoption / Direct Opposition" is a beat-driven excursion through darkened cellars fuelled by deep, brooding atmospheres and oriental plucks. The sophisticated chord progression and concise drumming found in "Refusal To Grow Up" is playful in nature, but serious in all aspects of it's well constructed, lounge-esque comfort. The sample-fuelled "Single Slice Of Time" showcases the juxtaposition between experimental percussive techniques spliced beyond chopped and processed vocal samples. The bass-heavy treatment of "Accelerate Everything" is a heartbeat soaked, toe-tapping, synth rollercoaster amidst JBXDR's innovative, yet always pleasing set of skills behind a drum kit. The upcoming LP "Wave Talk" is nothing short of colourful, carefully constructed and energetic potency. A collage of love, life and everything in between. Watch JBXDR's album of 'Wave Talk' on Youtube:

We are looking forward to seeing what these songs can offer in full lenght! More information on wave talk as well as JBXDR's tour dates can be found below:
"Wave Talk" Album Tracklist:
1. Mass Adoption / Direct Opposition
2. Counter Culture Is the Only Way Critiquing Culture
3. Refusal To Grow Up
4. Everything That I Need And Want
5. Single Slice Of Time
6. Surge Identity
7. Simpler Times
8. Surfing A Wave Of Populism
9. Accelerate Everything
10. Wave Talk
11. Empty Theatrics
12. Formular
JBXDR Upcoming Live Dates:
12 July – Showcase Gig – Berlin, Germany
12 July – Monarch –  Berlin, Germany
4 August – Vogelball – Hamburg, Germany
5 August – DETECT Festival – Berlin, Germany
17 – 19 August – Bucht der Träumer, Germany
For more information, visit JBXDR's website: http://www.jbxdr.com/