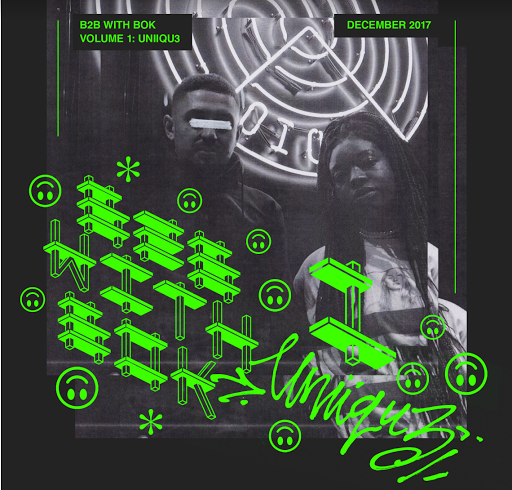 Bok Bok announces new mix series in partnership with Radar Radio "B2B WITH BOK"
Night Slugs' Bok Bok announces a new mix series in association with Radar Radio called "B2B w Bok". The founder of the electronic London based label invites like­ minded friends, cohorts and influential DJ's he looks up to to join him on a back to back session with "No prior preparation, just a raw DJ mix as we would in the club."
The first instalment features one of Bok's favourites, UniiQu3. He says of the New Jersey club producer, "The energy she brings to her shows is so special, she even jumped on the mic during this set. Listeners can expect an hour of diamond­cut club music." UNiiQu3, born Cherise Gary, began her music career as a sought­after vocalist in the club scene, and has recently solidified herself as one of the most electrifying producers in the game.
Bok Bok is a London based music producer, artist, and co­founder of the UK record label Night Slugs. He has played an integral part in UK dance music, producing tracks with a mutable hybrid of grime, house, electro, R&B, techno, hip­hop, and dubstep. He's released game­changing music from Jam City, Girl Unit and Kingdom alongside production work with the likes of Kelela, and advocated for a genuinely diverse and inclusive club culture.
Radar Radio is London's most exciting, youth focused radio station. Running since 2014, the East London station prides itself on offering uncensored broadcasts, uncompromising programming and an unparalleled connection to the music and culture shaping the capital.
Listen to the first episode here: